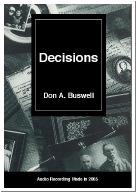 ITEM NUMBER
9835

TITLE

Decisions
TYPE OF MEDIA
CD (Audio)
PRICE
Total $5.00
SHIPPING
$3.00 ( per copy)
SEND CHECKS TO
Our Families Roots
1024 E. 4525 S.
Ogden, Utah 84403
Decisions by Don Buswell
Audio Recording Made In 2005
(1 Disc) (CD Audio) (60 Minutes) (2005)
Audio redording of Don Buswell that shows the many decisions that were made during his life and the effects they had on him. You also can not help but see the influence of our father in heaven in the making of those decisions. Helps remind us of the importance of making good decisions.
© 2006 by Our Families Roots Organization. All rights reserved.