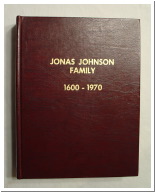 ITEM NUMBER
2200
TITLE
Jonas Johnson Family
1608 - 1970
TYPE OF MEDIA
CD (Data)
PRICE
Total $20.00
SHIPPING
$3.00 ( per copy)
SEND CHECKS TO
Our Families Roots
1024 E. 4525 S.
Ogden, Utah 84403
Jonas Johnson Family 1608 - 1970
This book is a blessing to all who read it and a great source of information on the descendents of Jonas Johnson. This book lists the Jonas Johnson line from 1600 to 1970. There are over 644 pages of photos, life sketches and family group sheets. (Adobe PDF)
© 2007 by Our Families Roots Organization. All rights reserved.